Affiliate Rewards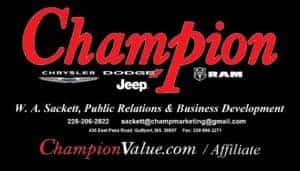 Welcome to Champion Affiliate Program
"A special business to business discount program for your associates, members, employees and workers"
On this page, you'll find a comprehensive list of companies whom have an agreement with Chrysler to provide their employees with below factory invoice pricing!
Simply use this chart and find your company. If it's listed, all we will need for verification is either (a) a work ID badge or (b) a paystub with your name and the company's name.  If you do not see your company, organization or city  goverment listed please contact our representing agent.
It's that simple.
Benefits
This discount is offered in addition to every applicable "New Vehicle"  rebate and incentive being offered by the manufacturer on each of their automotive brands of Chrysler, Dodge, Jeep and RAM during the time of purchase.

A fixed "over invoice" discount will be available on all "Pre-owned" vehicles.

Your buyers will receive our Champion Concierge service.
Representing Agent
William Sackett 228-206-2822